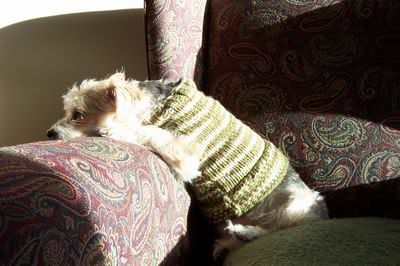 Oh my stars and garters.. I broke down and made the call. The
Saeco
Gran
Crema
is on its way. I just spoke to the loveliest of men (hey.. whoever fills my coffee needs is a lovely whatever
ok
?) at :
www.espressotec.com
and he assured me that
DHL
will be picking it up in 30 or so minutes than it will be whizzing off to me. Thank all the
deities
. The coffee I have been subsisting on is wicked strong. ;)
Why did this take so long for me to decide you ask? Well I had a rotten case of food poisoning this weekend (5 pounds gone in 12 hours bad
ok
??) and coffee was nearly the last thing on my mind. I was so queasy that I couldn't even KNIT. I KNOW. Madness you say.. and I agree.
The sweater is coming along still. Not nearly as fast as the last one, but I am blaming that on the poison too. It was a knit free weekend. Weird.
The weather is turning nasty here, I am watching the gusts blow down the street sideways. Yucky ducky.
Stay warm Possums!!